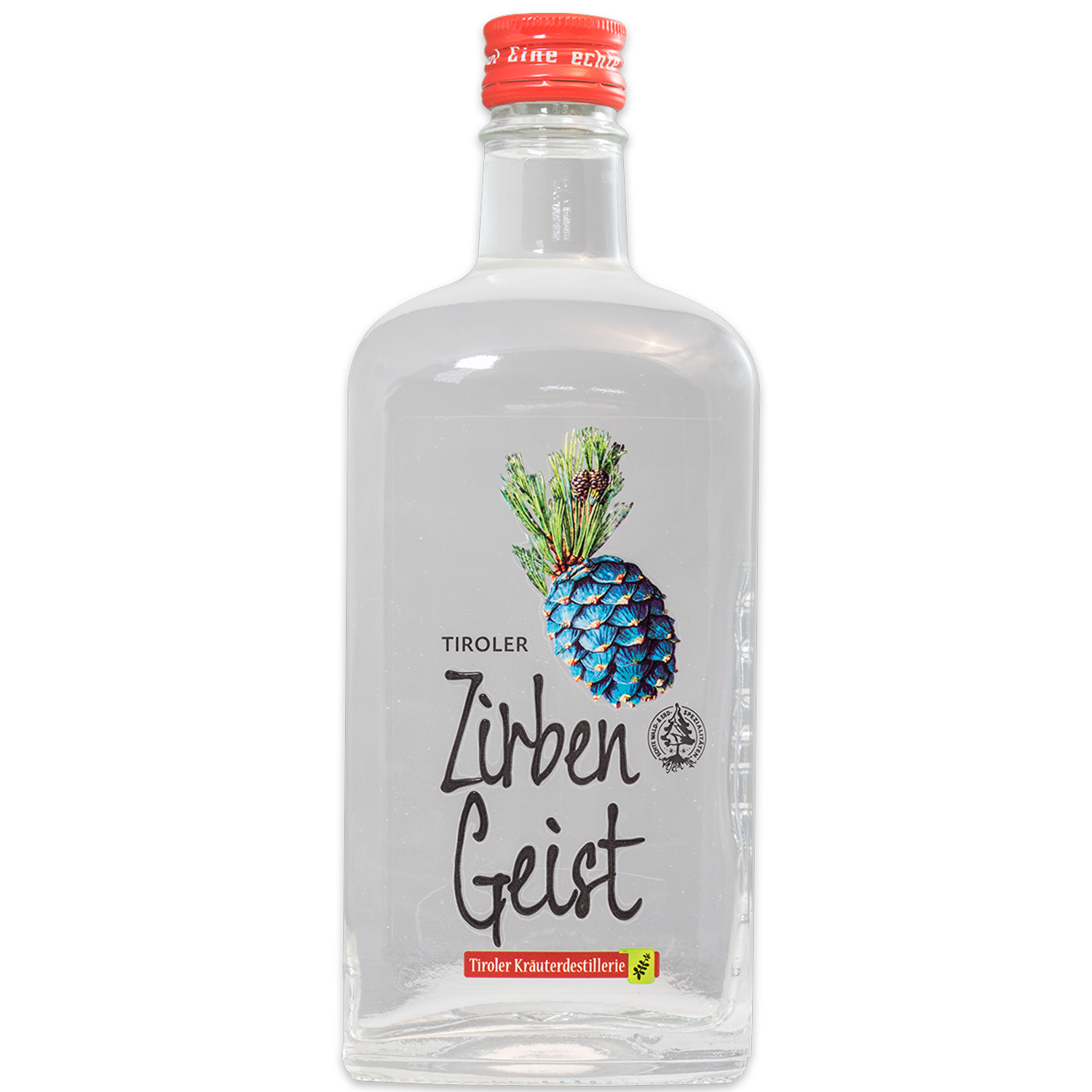 €18.90
Content:
0.5 Liter
(

€37.80

/ 1 Liter)
The Tyrolean Stone Pine Spirit, a classic mountain spirit, is distilled from stone pine cones and offers an unmistakable, resinous aroma.
Ready for shipment immediately, for delivery to AT and GER at your place at the latest: 08.12.23 to 12.12.23
Alcoholic strength:
38% Vol.
Swiss Stone Pine Spirit 500 ML
This Swiss stone pine spirit from the Tiroler Kräuterdestillerie is a very exceptional spirit with the incomparable taste of the wild and beautiful Alpine mountains. Its racy, fresh and mildly resinous bouquet makes it a very unique specialty.
Enjoyment tip from Tyrol
Swiss Stone Pine Spirit tastes wonderful after a Tyrolean "Brettljause" with bacon and cheese.
| | |
| --- | --- |
| Drinking temperature: | between 16° and 20°C |
| Pairs well with: | Tyrolean snack |
About the Stone Pine Spirit
For the production of the macerate, three to four stone pine cones per liter alcohol are cut into thin slices and soaked for five to six weeks. After the ingredients have passed into the alcohol, the stone pine macerate is further processed, depending on the desired end-product:
For stone pine schnapps, the macerate is distilled, transferring their natural aromas in the process. The result is the crystal-clear schnapps with the distinctive intense aroma of the Swiss stone pine.
Swiss Stone Pine Cone harvest in Tyrol
In the period from the end of June up to about mid-July, Tyrolean farmers make their annual trip to the mountains to harvest the coveted Stone Pine cones from which the delicious Swiss Stone Pine Liqueur and spirit are made.
It takes two summers for the cherished cones – also frequently referred to as "nuts" – to ripen, only then can they be collected and prepared for the maceration process. Harvesting the cones is wearisome and dangerous, for they can only be picked by hand, so the collector has to climb the pine tree (mostly without any auxiliary devices). To master the pathless high alpine terrain, you have got to be physically as well as mentally fit, and to have a head for heights.