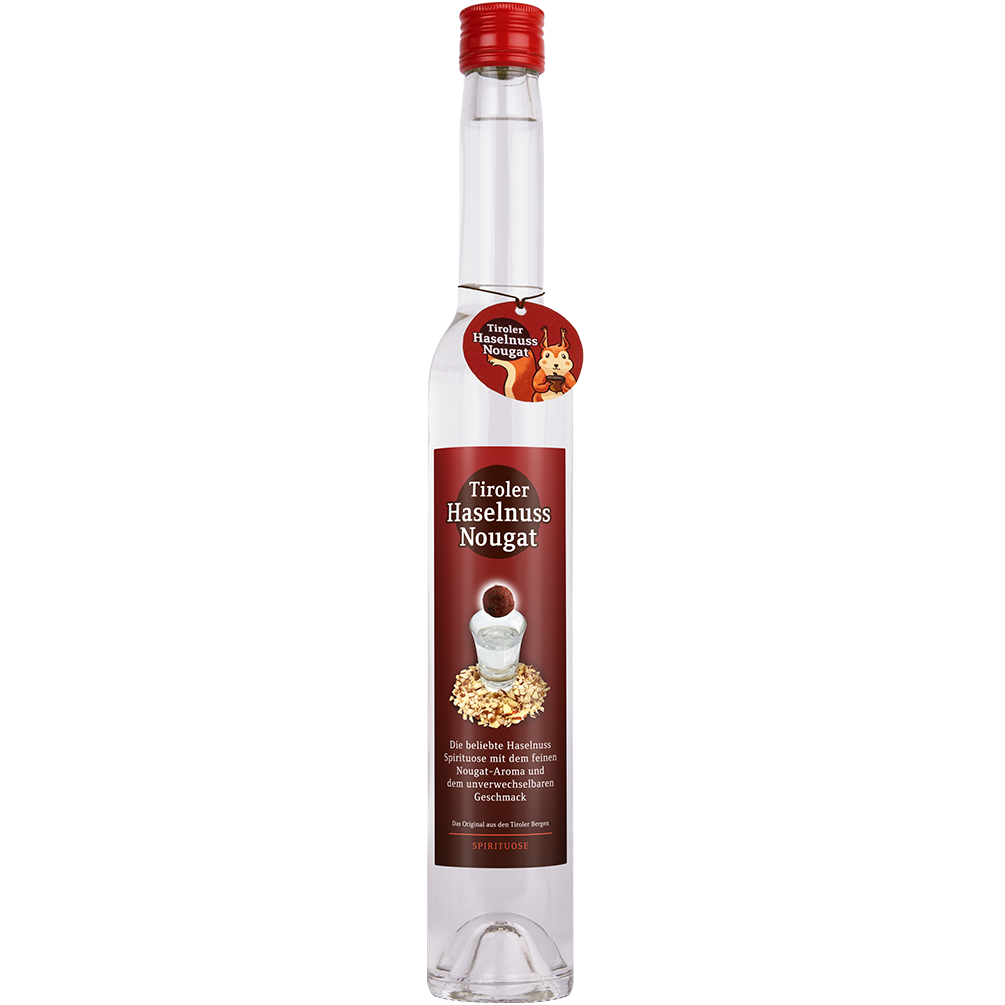 €13.49
Content:
0.35 Liter
(

€38.54

/ 1 Liter)
This Tyrolean Hazelnut Nougat Schnapps, with its pronounced and full-bodied nutty flavor, pairs exceptionally well with sweets and desserts.
Ready for shipment immediately, for delivery to AT and GER at your place at the latest: 02.12.23 to 06.12.23
Alcoholic strength:
40% Vol.
Hazel Nougat
Experience the authentic essence of Tyrol! This hazelnut schnapps boasts a distinctive and unparalleled flavor. Crafted with naturally handpicked hazelnuts, it embodies a robust and pronounced nuttiness. Allow yourself to be captivated by the delicate aroma of nougat. It's a delightful blend of sweetness and mildness that's simply irresistible. This hazelnut nougat schnapps is a perfect complement to a variety of sweets and desserts. 
If you're looking for something sweeter, take a look at our selection of Hazelnut Liqueurs.

And if you can't get enough of the Hazel Nougat, we recommend the 1L bottle.

Enjoyment tip from Tyrol
Pairing exceptionally well with coffee and cake, this hazelnut nougat schnapps can elevate any special meal. You can also get creative by enhancing your favorite desserts with a touch of Hazel Nougat. Even when served as a pre-meal aperitif, this exquisite spirit is a source of pleasure. It sets the stage for a festive gathering, with its wonderful nougat aroma coming to life best at a temperature of 16°C - 18°C.
Scent:

Nougat

Taste:

mild

, nutty

, smooth

, smooth

Finish:

fine

, mild

, soft

Drinking temperature:

between 16° and 18°C

Pairs well with:

baked goods

, cakes

, desserts

, sweet meals

Occasion:
as an aperitif

, before bedtime

, to toast with

, with coffee
To craft this exclusive nut specialty from Tyrol, we start with fresh, handpicked hazelnuts. These hazelnuts undergo a meticulous process of peeling, chopping, and soaking in alcohol for several weeks. A careful maceration ensures that the hazelnut kernels' valuable components are preserved. Following a precise distillation, the noble hazelnut distillate matures for several months, resulting in the unique and full-bodied hazelnut nougat flavor.
The hazelnut, or hazel bush, is prolific in Tyrol, thriving in small clearings or near beech forests. To yield abundant hazelnuts, the plant requires ample sunlight and warmth. From February to April, the hazel bush blooms with reddish flowers and elongated yellow hazelnut catkins. Come autumn, these highly sought-after and flavorful nuts can be harvested.