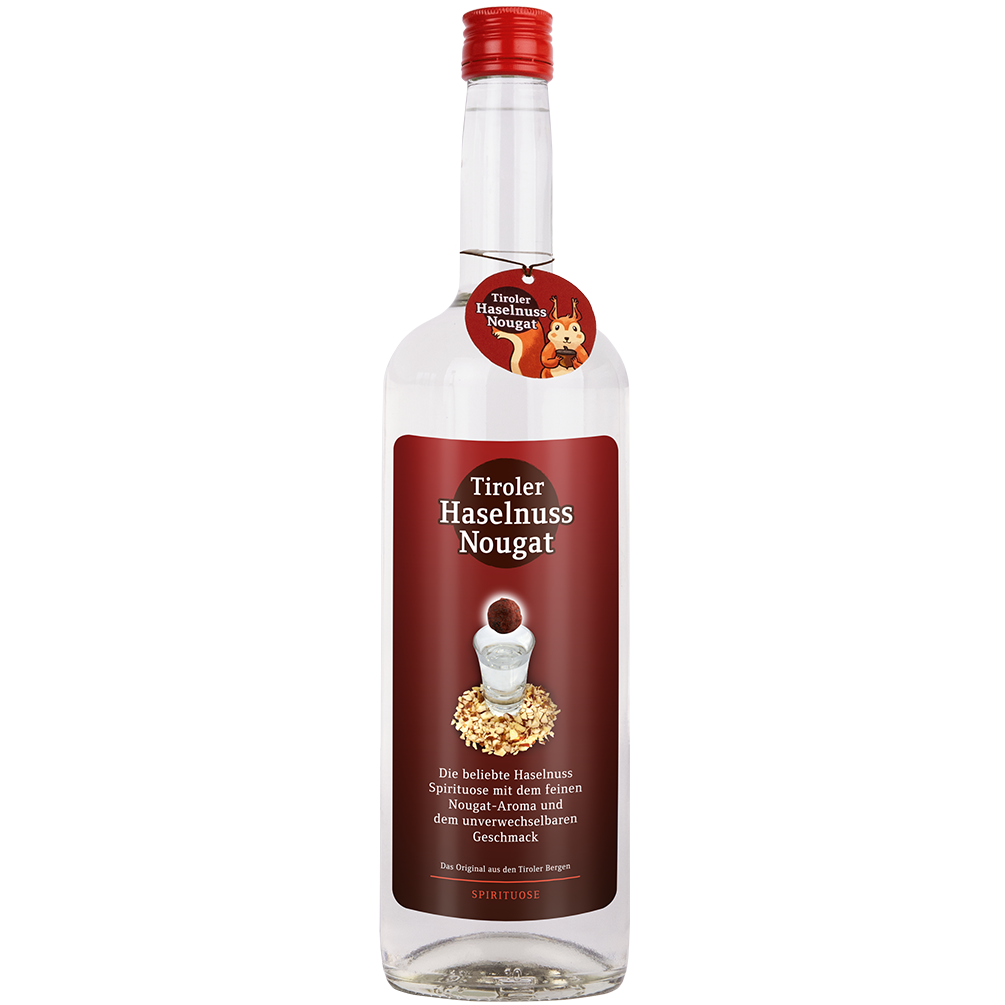 This Tyrolean Hazelnut Nougat Schnapps, with its pronounced and full-bodied nutty flavor, pairs exceptionally well with sweets and desserts.
Ready for shipment immediately, for delivery to AT and GER at your place at the latest: 02.12.23 to 06.12.23
Alcoholic strength:
40% Vol.
Hazel Nougat 1 L
The original from Tyrol! The hazelnut schnapps with a special taste. Natural handpicked hazelnuts, give this noble spirit its pronounced and full-bodied nut aroma. Let yourself be enchanted by the delicate scent of nougat. Sweet, mild, and irresistible! This hazelnut nougat schnapps pairs exceptionally well with sweets and desserts. 
If you're looking for something sweeter, we recommend our selection of hazelnut liqueurs.

For sampling, or as a gift for true Tyrol lovers, we also offer a smaller 0.35 L bottle.

Enjoyment tip from Tyrol
This hazelnut nougat schnapps pairs exceptionally well with coffee and cake. Elevate a special meal with this easily drinkable nut schnapps or get creative and enhance your favorite desserts with a dash of Hazel Nougat. Even before the meal, this fine spirit is a delight. Serve this hazelnut nougat schnapps as a small aperitif and set the tone for a festive gathering. The wonderful nougat aroma unfolds best at a drinking temperature of 16°C - 18°C.
Scent:

Nougat

Taste:

delicate

, mild

, nutty

, smooth

Finish:

fine

, mild

, soft

Drinking temperature:

between 16° and 18°C

Pairs well with:

baked goods

, cakes

, desserts

, sweet meals

Occasion:
as an aperitif

, before bedtime

, to toast with

, with coffee
To create this exclusive nut specialty from Tyrol, fresh, crisp, handpicked hazelnuts, are used. They are first peeled, then chopped, and soaked in alcohol for several weeks. Careful maceration preserves the valuable ingredients of the hazelnut kernels. After a meticulous distillation, the noble hazelnut distillate is further aged for several months. This aging process guarantees the unique and full hazelnut nougat flavor.
The hazelnut bush is particularly widespread in Tyrol because these bushes thrive best in small clearings or near beech forests. To produce many hazelnuts, the plant requires sufficient light and warmth. From February to April, the hazel bush develops its reddish flowers and yellow, elongated hazelnut catkins. Finally, in autumn, the popular and flavorful nut can be harvested.