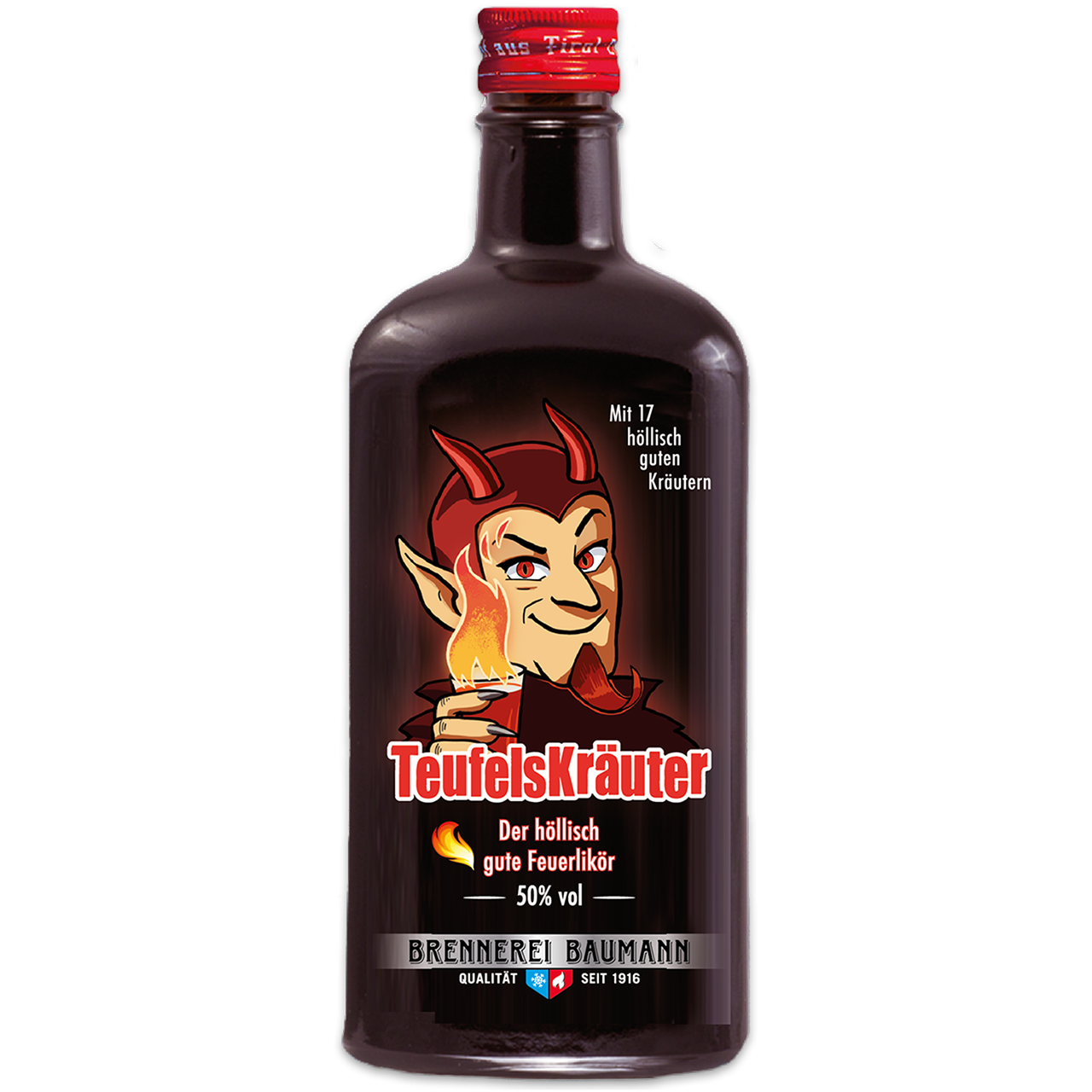 €27.90
%
€28.90
(3.46% saved)
Content:
0.7 Liter
(

€39.86

/ 1 Liter)
A fire liqueur made from a variety of alpine herbs and roots, combined with Jamaican rum and sugar, resulting in a fiery taste experience.
Ready for shipment immediately, for delivery to AT and GER at your place at the latest: 08.12.23 to 12.12.23
Alcoholic strength:
50% Vol.
Devils Herbs Fire Liqueur
Hellishly good Fire Liqueur made by Brennerei Baumann! Its secret are 17 hellishly good herbs. Citrus root, burnet and centaury are just a few examples of the valuable ingredients that are processed into this unique fire liqueur, which burns in the glass!
Teufelskräuter® is a registered trademark for the Brennerei Baumann.
Enjoyment tip from Tyrol
Devils Herbs Fire Liqueur is also suitable for flambéing your desserts.
Devils Herbs fire ritual
Try the original Tyrolean fire ritual - your guests will be excited! It's as simple as this: fill fireproof schnapps glasses to the brim with Devils Herbs Fire Liqueur and light them with a match. This way you determine the strength yourself - Original alc. 50 % Vol.
3 minutes fire in the glass alc. 45 % Vol.
5 minutes fire in a glass alc. 42 % Vol.
10 minutes fire in the glass alc. 33 % Vol.
Blow out the flame, stir the liqueur (preferably with a small spoon), and let the glasses cool down. Or hand out straws, stir with them and sip the fire liqueur. Here's to you and your guests!